TrooperPX: The Worlds Most Complete
Starship Troopers Reference Collection.

Video Games & Mods
Exclusive Images from HIUK, (Page 2)

Everything shown here are actual film-used props from the 1997 film STARSHIP TROOPERS.
The contents of TrooperPX is part of a single private collection. None of these items are for sale.


The ad on page 23 of the October 2000 issue of Sci-fi.
All images were provided exclusively to TrooperPX by Hasbro Interactive U.K. and may not be copied or distributed in any way. The "TRI" logo has been placed on the images to help track their use on this site.
---


This new batch of images come directly from the developer's desktop!
These folks at HIUK are very cool:

Darren Williams - UK Marketing Assistant.
Responsible for the advertising and promotion of the game.


Paula Singleton - UK Product Manager - responsible for liaising with
developer and producer and providing text and images to all territories.


Jamie Toghill - Senior QA Technician - Responsible for bug testing
( no pun intended ). He is the lead tester and formulates the testing
plan for the game (that means he gets to play the game all day!)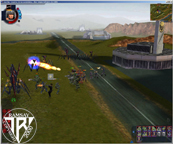 Good environment with infantry and Armory support holding the line.
"A bug takes a hit! Peel -and-eat shrimp!".
Four different Armor configurations (Marauders left) on the same page! Awesome!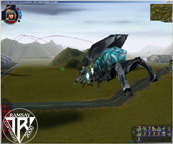 A good side shot of a mech. Notice the plotted trajectories of jumping Armor.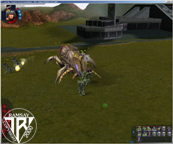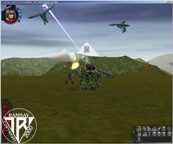 A bug tries to get past the squad. Hoppers dive in for an attack.
Images seen here provided to TrooperPX on Aug. 8, 2000.

---


Free counters provided by Honesty Communications.
Visitors to this game site since July 20, 2000
Copyright © 1998~2002 David Ramsay, All rights reserved.
All other trademarks and copyrights are the property of their respective owners.

All rights reserved.
No infringement is intended or desired.
No images may be captured, copied, reproduced or used without permission.
All images and information contained herein are Copyright their respective owners.
The contents of these pages, is Copyrighted by TrooperPX, as an artistic expression.
This is fan web-site and is intended solely to promote everything Starship Troopers.